In the post How to Achieve Sustained Growth, we made a case that growth is essential for any company. Without planning for growth, operations will stagnate, innovations come to a halt, employee and customer turnover will rise, market share will decline, and so on. In this post, we'll discuss what we refer to as Transitional Mastery and Conditional Mastery.
Conditional Awareness
Conditional Awareness refers to the notion that economies transition through various business cycles and, therefore, need to adapt to the conditions relative to the ongoing position in these cycles. Some of these cycles are:
The Empire cycle or Big Cycle (recurring every 250 years)
The Long Term Debt Cycle (Ray Dalio, recurring every 50-75 years)
The long-wave business cycle (Kondratieff, recurring every 35-66 years)
The infrastructural investment cycle (Kuznets, recurring every 15-25 years)
The fixed-investment cycle (Juglar, recurring every 7-11 years)
The short term debt cycle (recurring every 5-7 years)
The inventory cycle (Kitchin, recurring every 3-5 years)
The political cycles (recurring every 2-4 years)
Conditional Awareness, therefore, refers to the notion that a business passes through various meta-cycles that broadly determine market conditions that are generally beyond a firm's control. For instance, when a socialist government decides to raise corporate tax, we must deal with it. Or, when the underlying technology that drives the current wave of innovation matures, we can't escape the fact that our products and or derived business models will (prematurely) mature with it.
Given that technology is the main driver of economic growth, and since we're amidst a digital revolution, we believe the Kondratieff business cycle, or K-wave, is the one to look out for:
Conditional Awareness
On the other hand, Conditional Awareness refers to the notion that leaders need to consider both internal and external conditions that may influence the business outcomes ─ in any part of the decision-making process. For instance, if we can't attract the right talent to transform the business, our mission may be jeopardized. Although we can't influence the number of skills, we can make the job's conditions more attractive.
Given both states, transitional and conditional, leadership should learn from, adapt to, mitigate, and or gain from every one of these conditions, events, and cycles, which led us to create four distinct transitional lifecycles:
The Venture Lifecycle (Business Carousel™)
The Product Lifecycle (Product Carousel™)
The Customer Lifecycle (Customer Carousel™)
The Growth Lifecycle (Growth Carousel™)
Conditional Mastery™
The goal of Conditional Mastery™, as one of the six mastery disciplines identified in the Framework, isn't to control the firm's relative position in the cycles (it can't) or the actual conditions the business needs to face (it can), but to formulate the best possible response and to act accordingly. This may lead to a decision to redefine the vision, adjust strategic planning, change leadership style, or shift budget allocations. But it could also drive product innovation, business transformation, or switching investment strategies (M&A).

Conditional Leadership®
Almost thirty years ago, I read the bestseller Leadership and The One Minute Manager by Ken Blanchard. Blanchard explained that leaders should tailor their leadership style to an employee's motivation and competence related to the job to increase their performance readiness. This idea, a lifecycle theory on leadership, is referred to as Situational Leadership® and has been developed by Dr. Paul Hersey, described in his book The Situational Leader (1985).
According to Hersey, there is no single style of leadership that fits every employee: the kind of leadership should adapt to the situation, i.e., an individual's actual and desired capacity to perform while taking into account the organization's objectives. The theory of Situational Leadership® has helped me enormously throughout my career. It refrained me from 'telling' experienced employees what to do while I assisted those who had not acquired the necessary skills or expertise for a specific task.
While developing the ROUNDMAP, it became clear that the success of an operation generally referred to as growth, is conditional. For instance, when we are unaware of specific gaps and constraints while executing the strategy, this directly impacts the corporate performance readiness.
Six Mastery Disciplines
Let's look at the six Mastery disciplines which I've identified in the Framework (you'll find four of them on the outer rim of the image below):
Strategic Mastery (related to Strategy)
Commercial Mastery (related to Purpose)
Operational Mastery (related to Mission)
Transitional Mastery™ (related to Vision)
Conditional Mastery™ (related to Conditions)
Situational Mastery™ (related to Competencies)
Strategic Mastery
Strategic Mastery is the practice of knowing Where-to-Play and How-to-Win, as described in the book Playing to Win: How Strategy Really Works by A.G. Lafley and Roger L. Martin (Play-to-Win Strategy Canvas).
It states that strategy has five choices:
What is our winning aspiration?
The purpose of our enterprise is its motivating aspiration.
Where will we play?
A playing field where we can achieve that aspiration.
How will we win?
The way we will win on the chosen playing field.
What capabilities must be in place?
The set and configuration of capabilities required to win in the chosen way.
What management systems are required?
The systems and measures that enable the capabilities and support the choices.
To identify a playing field and a way to win, we'll need to be aware of the current situation: the size of the market, known market barriers, the structure of the market, price distribution, actual and projected competition, actual and projected customer demand, competitor's value propositions, competitor's competitive advantages, and so on.
Lafley & Martin: "In our view, far too few companies have a clear, choiceful, and compelling winning strategy in place. Too often, CEOs in particular will allow what is urgent to crowd out what is really important. When an organizational bias for action drives doing, often thinking falls by the wayside."
Commercial Mastery
The Commercial Mastery Practice ensures that we take control of the primary or frontline business activities, which refers to the entire process of customer acquisition, creation, onboarding, servicing, satisfaction, retention, and reactivation.
While most firms have a customer acquisition strategy in place, only 16% focus on customer retention ─ despite the following incentives:
The probability of selling to an existing customer is 60-70%, while the chance of selling to a new prospect is only 5% to 20%.
It costs up to 7x more to acquire a new customer than to retain an old one.
Increasing customer retention by 5% increases profits by 25-95%.
44% of companies have a greater focus on acquisition vs. 16% that focus on retention.
65% of a company's business comes from existing customers.
For most industries, the average customer retention rate is below 20%.
Loyal customers spend 67% more than new ones.
Only 40% of companies and 30% of agencies have an equal focus on acquisition and retention.
89% of see customer experience as a critical factor in driving customer loyalty and retention.
Existing customers are 50% more likely to try new products and spend 31% more than new customers.
82% of companies agree that customer retention is cheaper than acquisition
Understanding customer needs and expectations to offer the products, services, and experiences that customers love to come back for, again, requires a thorough understanding of the current market situation and gaining insights from collecting and processing customer feedback.
Operational Mastery
To master the Operation, at least in the Framework, refers to the secondary or supporting activities that businesses engage in daily. Operations management is a field of business concerned with the administration of business practices to maximize efficiency within an organization. It involves planning, organizing, and overseeing the organization's processes to balance revenues and costs and achieve the highest possible operating profit.
These activities need continuous optimization to generate sufficient revenues to cover expenses and earn a profit.
Employees help accomplish the business' goals by performing specific functions, such as:
Supply Chain Management,
R&D and Product Design,
Forecasting,
Quality Control,
Delivery Management,
Procurement,
Manufacturing,
Warehousing.
The operations of a business vary across industries. Mastering the processes of a specific industry can help the company achieve success.
Understanding how to optimize or transform the business operation requires a thorough knowledge of the situation, including the standard practice in a specific industry or marketplace.
Transitional Mastery™
This refers to the notion that knowing how to progress through each of the aforementioned transitional lifecycles can make all the difference. Listening, learning, and reflecting are all equally important to interpret how to prepare for the next cycle. That is why we refer to feedback as learning cycles. Without learning, we can't make any progress, and eventually, growth will stagnate and start to decline.
Conditional Mastery™
Mastering the response to changing internal and external conditions is critical to the success of the business enterprise. It allows the firm to position its brand and portfolio competitively in the marketplace while attracting, satisfying, and retaining an ever-growing number of customers with a winning value proposition. To drive sustained growth, having an apparent oversight of the internal and external conditions (i.e., circumstances) will help, for instance, to create an attractive vision with which to engage existing employees while also appealing to new talent.
I would suggest analyzing at least:
Customer needs/wants/desires,
Customer behavior,
Customer feedback,
Customer expectations,
Customer recommendations,
Competitive offerings,
Alternative business models,
Technological advancements,
The adoption rate of new technologies,
New communication or distribution channels,
Restructuring of sectors and industries,
Rules and regulations,
Product- and market trends.
To:
Define the nature and scope of a problem.
Identify the current strategies and activities in place to overcome the problem.
Understand the opinions and experiences of stakeholders.
Give a comprehensive view of the current situation of the organization.
Detect the gaps between the current state and desired state.
Provide information necessary to create a plan to get to reach the goals.
Identify the best courses of action to take during a project.
Make sure that efforts and activities are not repeated and wasted unnecessarily.
But there is so much more to it. And this is where other aspects come into play:
The Four Carousels (business, product, customer, growth);
As the company progresses, each lifecycle or carousel evolves separately.
The Business Model Matrix™ (product centricity, customer centricity, resource centricity, network centricity);
One of the ways to differentiate is by changing the business model; to outwit a competitor or bypass substantial market entry barriers.
The Business Cycles (s-curves, fourth industrial revolution, long-wave business cycle, rise and fall of empires);
What is the position of the company or industry relative to the various business cycles, and how does this impact growth?
A PESTEL Analysis (political, economic, social, technological, environmental, and legal);
A tool to evaluate the resources of a company such as financial resources, human resources, etc.

A STEEPLE Analysis;
A strategic management method to examine the external factors affecting the growth and performance of an organization.
The SWOT Analysis (strengths, weaknesses, opportunities, threats);
What is our competitive position (strengths, weaknesses, opportunities, and threats), and what does this mean for strategic planning?
Porter's Five Forces (supplier power, buyer power, competitive rivalry, threat of substitution, threat of new entry);
A technique to analyze the competitive environment.
5 C Analysis (Customers, Competitors, Company, Collaborators, Climate);
A tool to assess the organizational environment from 5 different areas that may affect your marketing decisions.
VRIO Analysis (Value, Rareness, Imitability, Organization);
A tool to evaluate the resources of a company such as financial resources, human resources, etc.
Situational Mastery™
And finally, mastering the situation, based on individual competencies, will determine whether the organization has the right skills, know-how, and experiences to perform its job.
React or respond?
There is a world of difference between reactions and responses. Let's look at the definitions taken from Psychology Today:
A reaction is instant. It's driven by the beliefs, biases, and prejudices of the unconscious mind. When you say or do something "without thinking," that's the unconscious mind running the show. A reaction is based in the moment and doesn't take into consideration long term effects of what you do or say. A reaction is survival-oriented and on some level a defense mechanism. It might turn out okay but often a reaction is something you regret later.

A response on the other hand usually comes more slowly. It's based on information from both the conscious mind and unconscious mind. A response will be more "ecological," meaning that it takes into consideration the well-being of not only you but those around you. It weighs the long term effects and stays in line with your core values.
The difference between the two can have profound implications. When a customer has a complaint, a machine breaks down, a package is not delivered in time, or a competitor tries to underpin an offer with a considerable discount, your employees will likely react. But suppose the problem is systemic (the product has a hidden flaw, the machine is technically obsolete, planning is a mess, and your pricing strategy badly needs an overhaul) and all we do is react to it. In that case, we deny the organization the opportunity to learn from it and formulate a systemic and sustainable response.
Moreover, these primal reactions, which often originate from good intentions, may lead to accusations and irritation, driving a wedge between departments ('sales is selling products to customers that we can't possibly satisfy'). Furthermore, not handling recurring problems as systemic may lead to a dependency upon troubleshooters. By allowing the situation to persist, they are essentially promoted to an expert level, making them virtually indispensable. And indispensable people will resist change as much as they can because change may cause them to lose their position of power.
Summary
This article does not intend to be an in-depth study of all events, circumstances, or conditions that could impact the course of your business. It is merely to demonstrate that Transitional and Conditional Awareness is critical to the Operation's success, particularly during the maturing and declining stage of a cycle.
Without capturing customer feedback, how can you develop products for future demand?
Without measuring customer satisfaction, how can you enhance customer experiences?
How can you know what customers desire without sharing intimate customer knowledge obtained from data mining or face-to-face conversations?
Without understanding the adjacent possible, how can we predict what's possible or what's to come? (we'll this explain a bit further)
Every bit of information contributes to our capacity to formulate a response that will sustain business growth. Continuous Situational Analysis is essential, particularly given our position in the long-wave business cycle. Understanding how to mitigate the restraining effects of the internal and external conditions and benefit from those that provide new opportunities will help you become a grandmaster in achieving growth, in courtesy of or despite the given situation.
The Adjacent Possible
The concept of the adjacent possible originates from Stuart Kauffman and his work on biological evolution. Kauffman was particularly interested in the origins of order and the mechanisms that drive self-organization. His findings are broadly applicable to any complex adaptive system, whether natural like the biosphere, human-made like cities, the economy, or technology. Kaufman investigates how 'the actual' expands into the 'adjacent possible.' The actual describes the system under investigation in its current state, with all its components and interconnections. The adjacent possible contains all the elements outside but near that system; those represent the opportunities for the current system to expand by building new connections and turning those elements into system components.
Let's take Kodak. While the barriers of entry were extremely high due to the complexity of making high quality film rolls, Kodak's 11 billion USD market got severly disrupted (-75%) in a few years. Not because anyone was taking the marketleader head-on but by allowing users of digital smartphones to instantly share their photos on social media networks like Flickr and Instagram. Kodak had been convinced that their print business would last much longer, given their strong competitive advantage, but it take not into account the adjacent possible, that is, the rapid adoption of smartphones and social networks, allowing a shift from printing photos to sharing digital photos online, thereby restructuring the entire market of consumer photography.
In the following TED talk, scientist Vittorio Loreto found a formula for the adjacent possible. He also found that systems seem to hover over a crossroads of exploiting the old versus exploring the new. On average, 80% appear to focus on exploitation and 20% on exploration.
Innovation Diversity
Loreto's mathematical equation for the adjacent possible confirms our idea that during the final phase of the business cycle, the stage we're currently at, a business should spend about 80% of its resources on defending ongoing business and 20% on discovering new business ventures. It should also be aware that while most technologies of the seventies and eighties are now maturing, there is only room left for 20% innovation diversity.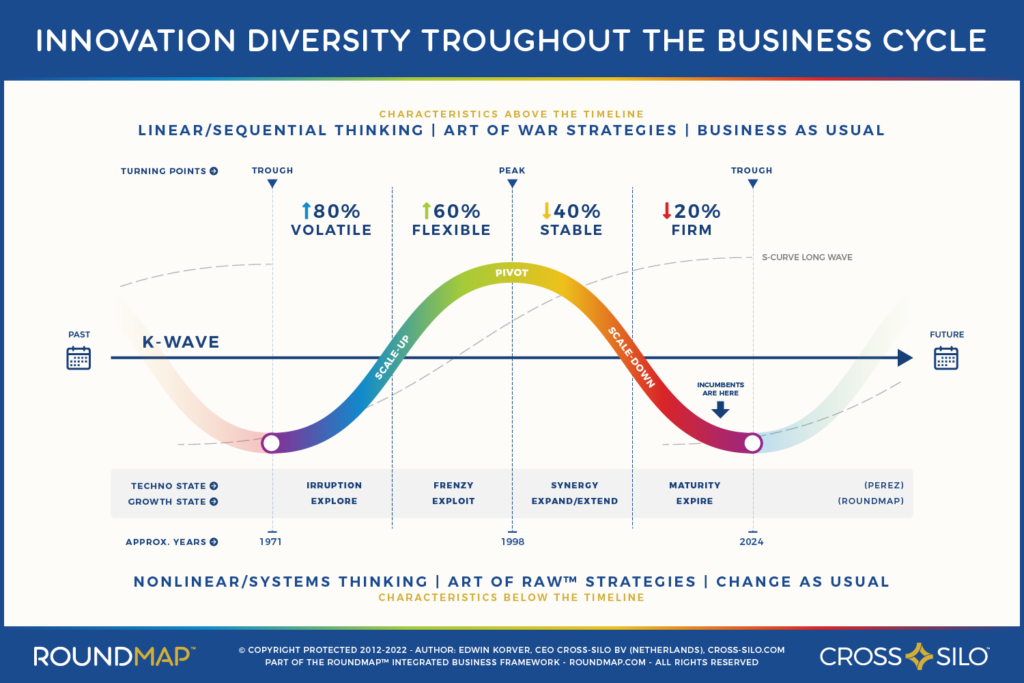 Leadership Styles
Finally, what does this mean for leadership? We believe leadership's style needs to adapt to the conditions to be most effective. While Hersey's Situational Leadership® focuses on individual leadership, our focus is on determining the most effective type of corporate leadership in a given timeframe.
Conditional Leadership™ is, therefore, about determining the most effective corporate leadership style, taking into account the internal and external conditions the business has to deal with within a certain timeframe. This may relate to the venture lifecycle, the growth lifecycle, the fixed-investment cycle, the long-wave business cycle, or any other cycle, or event. Just think of COVID and what these exceptional (non-cyclical) conditions have meant for your style of leadership.
More on Conditional Leadership™: continue reading.