The RoundMap™ framework addresses many focus areas and suggests multiple mindsets to comprehensively understand your business, its environment, and its dynamics. By putting on multiple Thinking Caps, you can obtain a panoptic view of your team, division, or business situation (panoptic is derived from the Greek panoptēs, meaning "all-seeing").
We advise clients to select between 6 and 12 dimensions most relevant to their (desired) situation. As each Thinking Cap comes with 30 questions, selecting 6 viewpoints will provide a 180° Panoptic, while 12 dimensions will provide a 360° Panoptic. We've mapped 12 random Thinking Caps in the image below for illustration purposes.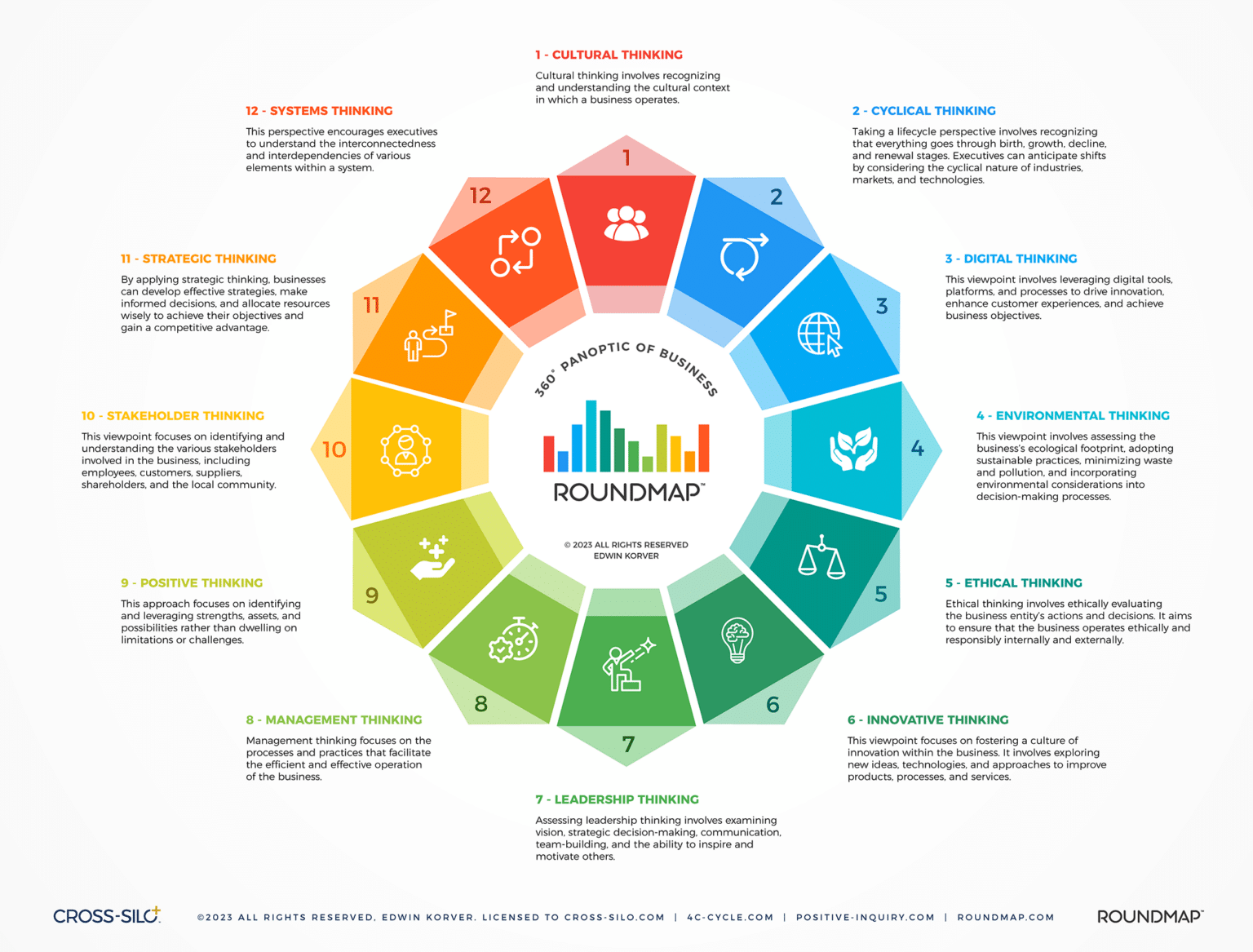 Overview of Thinking Caps
Below is a rich pallet of 48 Thinking Caps, consisting of 24 focus areas and 24 mindsets. We're not implying that this is a complete list or that you should draw dividing lines between them. However, putting on any number of complementary Thinking Caps will give you a more comprehensive and holistic understanding of your business.
Why put on multiple Thinking Caps?
Executives need to put on multiple thinking caps to better understand their business situation. Each thinking cap represents a different perspective or framework through which executives can analyze and interpret the complexities of a business situation. Here are some key reasons why multiple thinking caps are important:
Broaden perspectives: Each thinking cap brings a unique viewpoint, enabling executives to see the situation from various angles. This broader perspective helps identify potential opportunities, risks, and underlying factors that may not be apparent from a single viewpoint.

Enhance decision-making: By considering multiple thinking caps, executives can gather a diverse range of insights, ideas, and information. This enriches their decision-making process, allowing them to weigh different options, consider various scenarios, and make more informed and well-rounded decisions.

Anticipate consequences: Each thinking cap prompts executives to consider their decisions' potential consequences and implications. It encourages them to think beyond immediate outcomes and consider long-term impacts on stakeholders, resources, and the overall business strategy.

Challenge assumptions: Different thinking caps challenge preconceived notions and biases that executives may have. It encourages critical thinking, questioning established practices, and exploring alternative viewpoints that can lead to more innovative and effective solutions.

Embrace complexity: Business situations are often complex and multifaceted. Executives can navigate this complexity more effectively by putting on multiple thinking caps. It allows them to analyze various interconnected factors, relationships, and interdependencies, leading to a deeper understanding of the situation.

Facilitate collaboration: Each thinking cap may represent a different expertise or perspective within a team. By embracing multiple thinking caps, executives can foster collaboration, harnessing the collective intelligence of diverse team members. It encourages open dialogue, knowledge sharing, and synergy in problem-solving.
Overall, putting on multiple thinking caps helps executives to perceive a business situation from different angles, consider various aspects, challenge assumptions, and make more informed decisions. It promotes strategic thinking, agility, and adaptability in navigating the complexities of today's business landscape.
Why is this relevant today?
When things become too erratic, forcing companies to rethink their strategy and operations daily, it's critical to understand the organization completely. With a 360° view of the business, executives can make better-informed decisions, mitigate risks faster, adapt or pivot when needed, and know how and when to seize new opportunities.
In general, here are a few reasons to increase your understanding of the business:
Complexity and interconnectivity ─ In today's world, organizations operate within intricate systems involving various stakeholders, technologies, and global networks. Understanding and navigating this complexity requires executives to adopt a systems-thinking approach. By considering the interdependencies and feedback loops within the system, executives can make more informed decisions and avoid unintended consequences.
Accelerated change ─ The pace of change in technology, markets, and societal expectations is constantly accelerating. Cyclical thinking allows executives to anticipate and respond to cycles of disruption and innovation. By recognizing that change is inevitable and planning for it, executives can position their organizations to adapt and thrive in dynamic environments.
VUCA environment ─ The business landscape is volatile, uncertain, complex, and ambiguous (VUCA). To thrive in such an environment, executives need a positive thinking mindset. Focusing on strengths and possibilities rather than dwelling on challenges fosters resilience, agility, and innovation. It enables executives to lead their teams through uncertainty and drive positive change.
Strategic foresight ─ A multidimensional approach helps executives develop strategic foresight by considering various perspectives and dimensions of their business. It allows them to anticipate potential future scenarios, identify emerging trends and opportunities, and make proactive decisions. This foresight is crucial for staying ahead of the competition and driving sustainable growth.
By embracing a multidimensional approach, executives can better navigate the complexities of the present and prepare their organizations for the challenges and opportunities of the future. It enables them to be agile, resilient, and forward-thinking, which are essential qualities in today's rapidly evolving business environment.
A Kaleidoscopic Lens for Holistic Decision-Making
In the heart of Denmark lies an architectural marvel that offers a sweeping view of the city of Aarhus—the ARoS Aarhus Kunstmuseum and its iconic rooftop panorama. Like the myriad colors that fill its circular walkway, representing various shades and perspectives, the RoundMap Panoptic lays out 48 Thinking Caps. These 'caps' or viewpoints, much like the hues at ARoS, offer a comprehensive vantage point for decision-making.
Just as no single color can capture the essence of the world below the rooftop, no single perspective can fully encapsulate the complexities of today's business landscape. By engaging with multiple lenses, we learn to appreciate the shades, nuances, and subtleties that might go unnoticed. The RoundMap Panoptic is your rooftop over the world of enterprise, offering a 360-degree, multi-colored view for holistic decision-making that is as equitable as it is effective.