In a tireless quest for organizational excellence, Edwin Korver embarked on a journey to unearth the hidden truths of the business world. By mapping out the customer experience, he uncovered a damning revelation: the pernicious impact of silos and the relentless pursuit of shareholder value at the expense of all other stakeholders. 
This startling discovery ignited a crusade to reimagine the role of organizations and to promote a more inclusive, holistic approach that prioritizes the well-being of all. 
The symbol needed to represent a few fundamental insights:
The truth is silos are a natural byproduct of human nature. Our innate tendency to form close-knit relationships with a small group of like-minded individuals creates these divisions, making collaboration across silos a significant challenge. However, these barriers can be dismantled with the right mindset and tools. Small teams must learn to view collaboration as a means to success, sharing experiences, information, and strategies to overcome silo-driven limitations.
He also found that the legal framework significantly influences power dynamics. It's like a game of Monopoly where one player is given all the hotels and all the money while the rest are left to scramble for the leftover crumbs. In the shape of corporate banks and shareholders, the financial sector's influence is like a shadow looming over corporate decision-making, with the threat of consequences always present.
In the current system, the interests of shareholders are prioritized above all else, leaving other stakeholders in a precarious position. The result is a rigged game where wealth and power are concentrated in the hands of a select few, perpetuating inequality and injustice. This is why a fundamental shift in the legal framework is essential to create a more equitable and sustainable economy.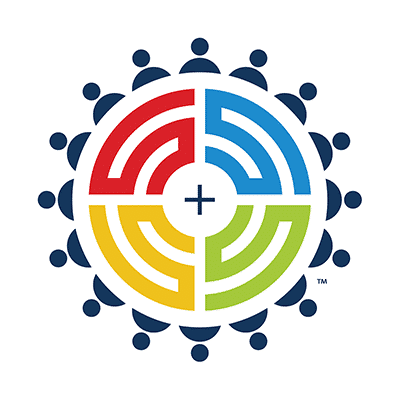 The RoundMap logo depicts four fluid S-shapes, representing the inescapable existence of silos in any organization. However, these silos are united by a circular table, symbolizing the power of collaboration and the importance of equitable representation for all stakeholders. The seamless curves of the design embody the fluidity and adaptability required to navigate the complexities of the modern business landscape. 
At the heart of the symbol lies a + sign, a glowing nucleus that embodies the Positive Core. This Positive Core drives organizational success by infusing positivity, trust, transparency, and collaboration into the operation to create the fertile soil that nourishes innovation, creativity, and growth.